1. Find your bus stop number
The four-digit bus stop numbers can be found when looking up arrival times or by hovering over your stop on the online map. You can also get the bus stop number from the bus stop sign at your stop.
2. Text FIND [stop #] to 92020
Be sure to text the word "FIND" then a space and the actual stop number, like this:
FIND 3417
3. Receive estimated arrival times
Only available for buses arriving within 30 minutes.
Example
Here is how your text message might look if you were going to catch a Route 4 bus going west at Oakville Greenhouse (which has the stop number 3417).
Send FIND 3417 to 92020, like this:
In this example you will get a message back telling you the next Route 4 bus will arrive in four minutes followed by the next one in 14 minutes.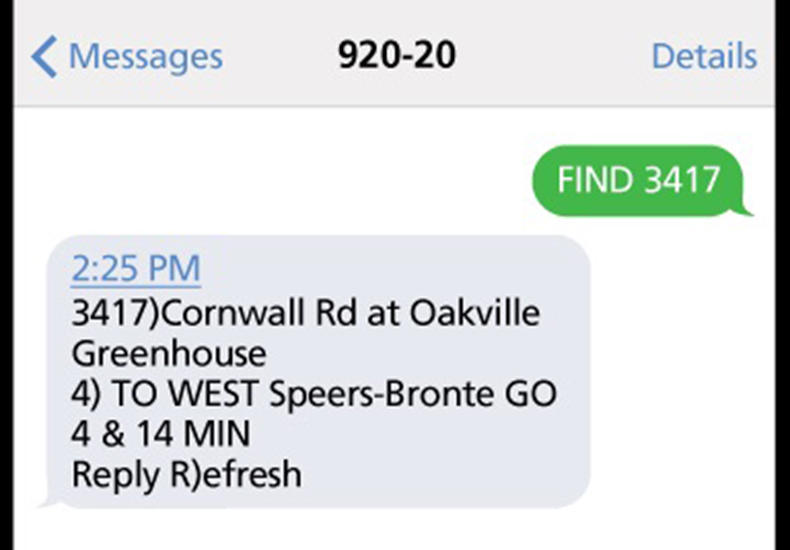 You can also reply to Track By Text messages with:
"R" for refresh will give you the latest, most updated result for the same stop.
"N" for the next result for your stop if there are multiple routes that don't all fit in one text message.
"S" (if available) for service bulletins or service alerts such as route detour or major delay.
"STOP" or "ARRET" to unsubscribe to any service alerts or text updates you previously signed up to receive.
"HELP" or "AIDE" to find out how to reach Oakville Transit.
"INFO" for more information.
Remember: Standard carrier charges for text messaging may apply. Check with your mobile carrier first
To get just the routes you are interested in (and potentially reduce the number of texts you need to send or receive to get the information you want), specify a route number in your request by adding "rt[route #]".
Example: FIND 3233 rt5
Instead of getting all results for buses predicted to arrive at stop 3233 (Uptown Core Terminal), you will only get results for Route 5 Dundas buses.