Use PRESTO on Oakville Transit and other connecting transit systems to:
Eliminate paper tickets, passes and cash
Get an automatic 2-hour transfer
Get an automatic co-fare discount when travelling to and from GO Transit
Load funds and passes online, in person at any PRESTO agents or Shoppers Drug Mart locations in Oakville, or in real time using the official PRESTO app available on Google Play or Apple App Store.
Ride with any participating transit agencies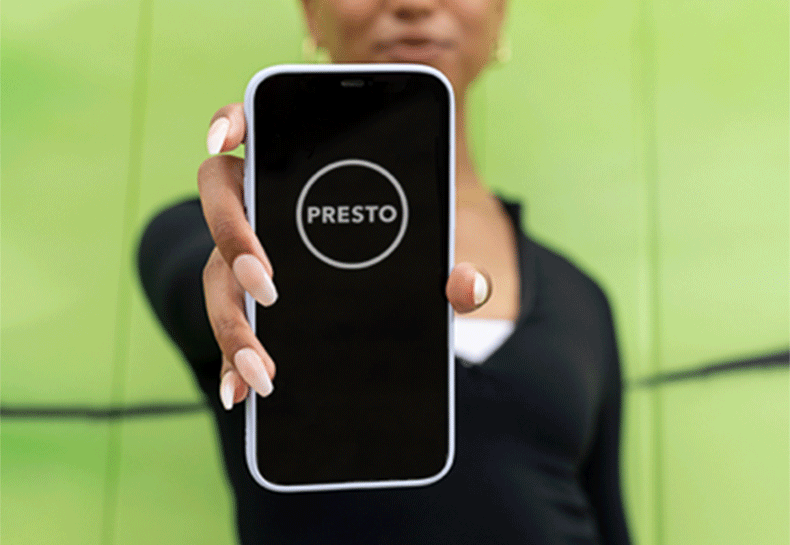 PRESTO cards are available for a $4 one-time issuing fee at the PRESTO website (allow 7-10 business days for delivery) or at any authorized PRESTO agents.
Buy your PRESTO card in Oakville at:
Oakville Town Hall, 1225 Trafalgar Road (debit and credit sales only)
Oakville Transit office, 430 Wyecroft Road
Shoppers Drug Mart locations in Oakville:

Third Line and Dundas, 2501 Third Line
Bronte, 2297 Lakeshore Road West
Dundas and Neyagawa, 478 Dundas Street West
Dundas and Prince Michael, 2525 Prince Michael Drive
Kerr and Speers, 550 Kerr Street
Oakville Place, 240 Leighland Avenue
South Oakville Centre, 1515 Rebecca Street
Trafalgar and Cornwall, Olde Oakville Marketplace, 351 Cornwall Road
Upper Middle and Eighth Line, Upper Oakville Shopping Centre, 1011 Upper Middle Road East

Oakville, Bronte and Clarkson GO Transit stations
You must load a minimum of $0.05 or a monthly pass to your card at the time of purchase.
Once you have your card, register your card to protect it in case of loss or theft.
To get access to other benefits including balance protection, visit the PRESTO website to register and create a My PRESTO Account.
The one-time issuing fee does not cover replacement for lost, stolen or broken cards.
Loading funds
You can load your PRESTO card from $10-$1000. Funds can be loaded:
At the Oakville, Bronte or Clarkson GO Transit stations
Over the phone by calling 1-8-PRESTO-123 (1-877-378-6123). If you load funds online or by phone it may take 24 hours for it to appear on your card.
Loading a monthly pass
A monthly pass can be loaded up to seven days into the current month or 19 days prior to the next month. Monthly passes are non-refundable, non-transferable and cannot be converted to regular funds on the PRESTO card.
Oakville Transit monthly passes for adults can be loaded:
Online (If you load a monthly pass online it may take 24 hours for it to appear on your card.)
At Oakville Town Hall or Oakville Transit office
At any Shoppers Drug Mart locations in Oakville
Oakville Transit monthly passes cannot be loaded at a GO Transit station.
Autoload and autorenew
Convenient autoload and autorenew features are also available for registered PRESTO card users. Funds and/or pass products will be added to your PRESTO card automatically when the balance falls below your preset minimum balance (must be at least $5).
Visit the PRESTO website and manage your PRESTO card online.
Another way to pay your fare if you don't have a PRESTO card or exact cash
You can pay the $4 fare on an Oakville Transit bus using your tap-enabled credit card, debit card or the mobile wallet on your smartphone or watch. Simply tap your credit card, debit card or mobile wallet on the PRESTO card reader when you board the bus.
Prepaid credit cards and gift cards will not work.
At this time, participating transit systems include Brampton Transit, Burlington Transit, Durham Regional Transit, GO Transit, Hamilton Street Railway, MiWay, Oakville Transit, UP Express and York Regional Transit. You don't need to ask for a paper transfer if you are transferring between these systems – PRESTO machines will be able to know if you paid your fare using a credit card or mobile wallet within the two-hour transfer period. Just tap your credit card or mobile wallet when you are transferring between buses.
Contactless payments include mobile wallets on smartphones, such as Apple Pay, Google Pay, Samsung Pay, and more.
For more information, visit the PRESTO contactless payment website.
PRESTO E-Tickets can be purchased, activated and displayed for payment using your smartphone with the PRESTO E-Tickets app. PRESTO E-Tickets offer the same single-fare price as a PRESTO card for adult, senior and youth fares. They are the ideal fare payment option for:
Occasional riders
Visitors to Oakville
Group travel for multiple passengers
PRESTO E-Tickets are currently only available to use locally on Oakville Transit. They are not currently available for use on Burlington Transit, MiWay or GO Transit. If you're transferring to Burlington Transit or MiWay, ask the driver for a paper transfer at the time of boarding.
PRESTO E-Tickets are not connected to your PRESTO card or account. They can only be purchased and used through the PRESTO E-Tickets app. They do not count toward loyalty programs, discounted transfers or co-fares that may be in place for PRESTO cardholders.
Buy a PRESTO E-Ticket
You can buy PRESTO E-Tickets with the PRESTO E-Tickets app using all major credit cards, as well as Debit Mastercard and Visa Debit. You'll need access to the internet at the time of purchasing. E-Tickets will remain in your account until you activate them. Saving them on your smartphone means you can view and activate an E-Ticket without an internet connection.
PRESTO E-Tickets do not expire. They are final sale and cannot be refunded. They are only valid if activated on a smartphone that you are carrying with you when you take transit. Printouts are not accepted.
You can buy and activate up to 20 E-Tickets at a time, and use those to travel with others who do not have the PRESTO E-Tickets app. Your group must stay together in case you are asked to show proof of payment or if you plan to transfer during your E-Ticket travel window.
You can also send unused E-Tickets to someone else through the PRESTO E-Tickets app. Tickets can only be received by E-Tickets app users, otherwise the tickets are lost and cannot return to the sender.
Using your PRESTO E-Tickets
Just before you board the bus, activate your E-Ticket by opening the PRESTO E-Tickets app on your phone, select the E-Ticket you want to use and select "Activate." The app will display a QR code that you will scan on the PRESTO device on the bus. An activated PRESTO E-Ticket on your smartphone is your proof-of-payment.
Once you activate the E-Ticket, you can travel for up to two hours with the same ticket. The app will display the time when your travel window will expire and a countdown timer at the bottom of the activated ticket screen. Open the app and scan the QR code of the originally activated ticket each time you board a bus.
When using care-A-van or Home to Hub, present your the activated E-Ticket to the driver for visual validation.
If you have a Youth or Senior PRESTO card, you cannot tap for an additional person. Additional persons will need their own PRESTO card or pay cash for their fare, unless they have a transfer.
For adult riders, yes, at this time, this feature is available on conventional buses only. If you have enough funds loaded on your card, tap onto the bus PRESTO fare payment device as per usual and then notify the bus driver you wish to pay for an additional rider. You may pay for up to five additional people and each additional person will be charged the cash fare. Each additional customer will be issued a two-hour paper transfer.
If you only have a monthly pass loaded on your PRESTO card, you will not be able to pay for an additional rider.
PRESTO cards for children, youths or seniors must be programmed to ensure the user receives the fare discount.
Follow these steps if you need a child, youth or senior card (these are called concession cards):
Purchase a PRESTO card online or in person.
Program your card in person at an authorized PRESTO agent. This cannot be done online.
You only have to program your child, youth or senior PRESTO card once. Then you can load funds or a monthly pass online or in person at an authorized agent. When you tap your card onto a PRESTO device, a bus driver will be alerted to the type of card that is being used.
Child fare
A child fare applies to those 6 to 12 years of age inclusive. When a child cardholder reaches 13 years of age, the PRESTO card must be reprogrammed to a youth card at one of the PRESTO agents. Cards that are not reprogrammed will automatically deduct an adult fare.
Youth fare
A youth fare applies to those 13 to 19 years of age inclusive.
Your Oakville Transit fare is fully covered when connecting to GO Transit service. The PRESTO card will calculate the discount automatically.
Going to GO Transit
You will pay the full Oakville Transit fare. When you connect to GO Transit and tap your PRESTO card, you will receive a discount on your GO fare that is equal to your Oakville Transit fare.
Coming from GO Transit
PRESTO will know if a GO Transit trip has been completed and automatically gives you a free ride on Oakville Transit.
If the balance is less than $50, it can be refunded at the Oakville Transit office at 430 Wyecroft Road. You will need to present your PRESTO card and a completed "Form B" which can be found on PRESTO's Paper Forms page.
Monthly passes cannot be refunded or converted to regular funds on the card.
For PRESTO customer service, account inquiries and more frequently asked questions, call 1-8-PRESTO-123 (1-877-378-6123) or visit PRESTO website.