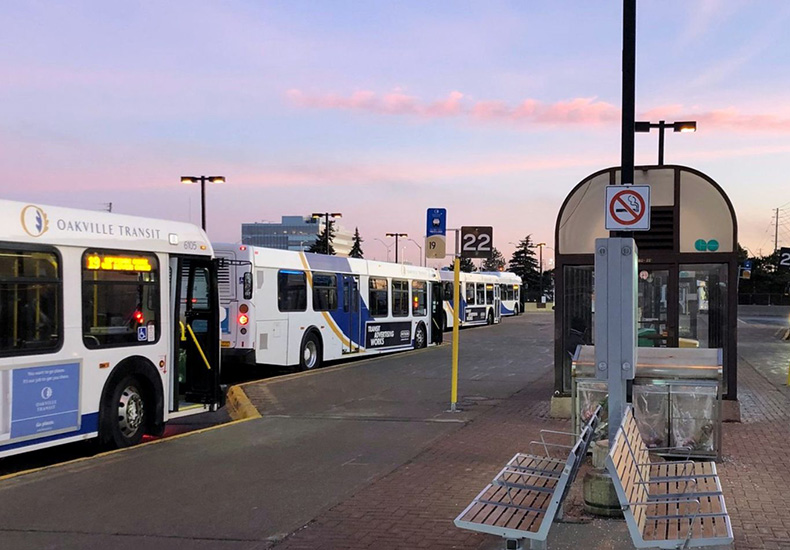 The Annual Plan provides a roadmap to guide the necessary work on key projects and initiatives for Oakville Transit in the upcoming year. The plan will be finalized in the fall of 2024.
Key components of the plan are system review components (for example net cost per passenger, and demand capacity) and customer and stakeholder feedback.
Planned initiatives for 2024
Review of bus schedules to improve schedule adherence.

A review of routes, prioritizing routes 5/5A, 19 and 24 to identify the total time required to complete the route and possible connection changes at terminals. This will also include review of proposals to separate route 5 and 5A by creating a neighborhood-based route in Ward 7, and to extend Route 5 further east across Dundas Street.

Creation of a travel training program to help teach residents the "how tos" of riding public transit.
Expansion of Oakville Transit's On Demand Service to new areas and review of opportunities to convert conventional fixed route service to on demand.
Oakville Transit project implementation, which includes the implementation of Battery Electric buses, a review of the outcomes of introducing free service to youth and seniors and completing the five year business plan.
The Oakville Transit Annual Plan aligns with other planning documents and planning work underway in the town for example the Town of Oakville's Transportation Master Plan and Livable Oakville Plan.